To invite a friend to your club, please follow the steps provided below:


1. Log into the Child Profile
2. Click on the Friend Button which can be located in the bottom-left corner of the screen
​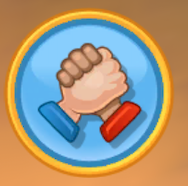 ​
3. Once the menu pulls up, select Friends (this is where you will be able to view all your friends)​
4. Select a friend's name. Their profile will expand as shown here:
​​
5. Then select the "Invite to Club" button, this will send out an invite immediately.