Inventory Overview
A player's Avatar will have an Inventory space where they can manage and see the items they've collected, purchased, and earned.
How do I access my Inventory?
A player's Inventory can be accessed by selecting the Backpack icon.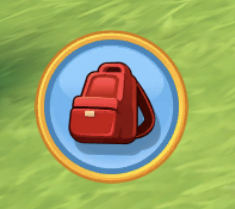 The Inventory page will appear, and players can further manage their Inventory from here.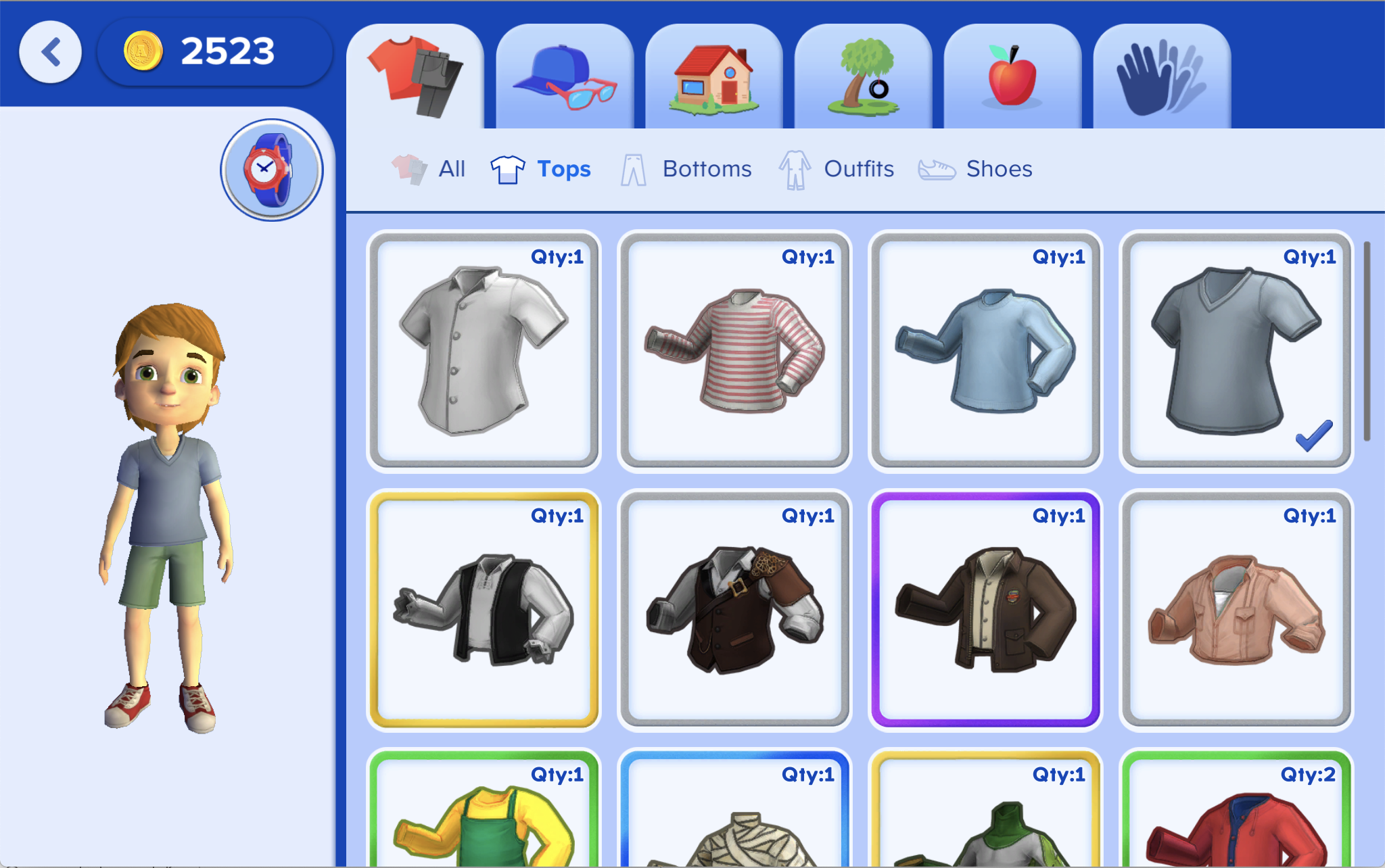 What kinds of items are stored in my Inventory?
Inventory includes the following main categories for items:
Clothes
Accessories
Interior Furniture
Exterior Furniture
Harvestables

Items harvested from around the world of Adventure Academy (i.e., fish, plants, miscellaneous)

Emotes

An expression or action a player's Avatar can do
The Inventory has a tab for each category. Selecting a tab will show all items a player has in that category.

In addition, each category has additional sub-categories by type.
For example, The Clothes tab has the following sub-categories:
All
Tops
Bottoms
Outfits
Shoes
Can I change what my Avatar is wearing in the Inventory page?
Yes! Players are able to equip clothes and accessories from their Inventory for their Avatar to wear.
For additional information on how to do this, please refer to the following:
Can I view my crafting Recipes in the Inventory?
No, Recipes to craft items cannot be viewed in the Inventory. To view or craft the Recipes they've collected, a player will need to go to Craftsman Ship in the Marketplace.
Can I delete items in my Inventory that I don't want anymore?
Yes! Players can delete an item by doing the following:
Find and select an item you wish to delete.
Click/tap the Trashcan icon on the panel of the respective item.
You'll receive a prompt asking to confirm if you'd like to proceed with deleting the item.
Select Yes.
The item will be deleted.
If you have a large quantity of an item, deleting it will only remove one.
Please be aware that deleting an item cannot be undone, so players should make sure they want to delete it before confirming.
Additionally, items can be sold for Coins in shops and at the Grand Marketplace. Once sold, they'll be removed from the Inventory. Players may want to sell their items rather than delete them!
If I put an item in my Player Home or up for sale in the Grand Marketplace, will it be removed from my Inventory?
Yes. If a player places an item in their Player Home, it will no longer be counted as in their Inventory since it is placed in the Home.
The same applies if a player puts an item up for sale in the Grand Marketplace.
Similarly, if they remove an item from the Player Home, it will go back into their Inventory. The same goes for the Grand Marketplace.
Inventory Expansion
Can I expand my Inventory if I run out of space?
Yes! Players can upgrade their Inventory so they can have more space for items. Please be aware that upgrading Inventory space does require Coins, and can only be upgraded a certain number of times. In general, each upgrade for more Inventory space will also cost more Coins.
Every 5 levels, players can upgrade their Inventory slots by adding 1 row to each sub-category.
Level 1 - 6 rows of items per sub-category (24 slots)
Level 5 - 7 rows (28 slots) - Cost: 1,000 Coins
Level 10 - 8 rows (32 slots) - Cost: 2,000 Coins
Level 15 - 9 rows (36 slots) - Cost: 3,000 Coins
Level 20 - 10 rows (40 slots) - Cost: 4,000 Coins
Level 25 - 11 rows (44 slots) - Cost: 5,000 Voins
Level 30 - 13 rows (+1 bonus row) (52 slots) - Cost: 6,000 Coins
Once a player has gotten the maximum amount of Inventory space, they'll no longer have an Upgrade option in their Inventory.
For instructions on how to upgrade Inventory space, please see the following:
Select the Backpack icon to access the Inventory.
Scroll down to the bottom of the Inventory in one of the Inventory tabs.
Select the Upgrade button on a row of Inventory spaces.

A prompt will appear, asking to confirm if you want to upgrade the Inventory.

It will also state the amount of Coins need to purchase the upgrade.


Confirm by selecting Upgrade.
A message will appear saying the Inventory has been expanded.