To accept or delete a friend request, please follow the steps provided below:
1. Log into the Child Profile
2. Click on the Friend Button which can be located in the bottom-left corner of the screen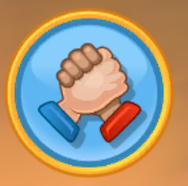 ​
3. Once the menu pulls up, select Requests (this is where you will be able to view all of your friend requests)

​
4. Select Delete or Accept. Please note, deleting a friend request will immediately delete the request - you will not be given the option to confirm your changes.