Parents and caregivers can track the academic progress of each child with our Progress Tracker feature! This is available in the Parents Section.
How do I access the Progress Tracker?
You can access the Progress Tracker by following the steps below:
Navigate to the Select Character screen.
Select the Menu icon.

Enter the account password to access the Parents Section.
Select Progress Tracker.
From there, you can select the icon of the child whose progress you'd like to check.
What does the Progress Tracker do?
The Progress Tracker shows the following per each child on the account:
Time Spent in Adventure Academy
Activities Completed
Recent Activities Completed
What does Time Spent in Adventure Academy detail?
This section tracks and shows how much time a player has spent in Adventure Academy in minutes. It can be filtered to show:
Minutes by day
Minutes by week
Minutes by month

What does Activities Completed detail?
This section tracks and shows how many learning activities a player has completed. It can be filtered to show:
Activities completed by week
Activities completed by month
Activities completed overall

In addition, it can also be filtered and viewed by Subject Category. The options for Subject Category are as follows:
All
English Language Arts
Social Studies
Science and Health
Mathematics
What does Recent Activities Completed detail?
This section shows learning activities recently completed by the player. It will display the title of the learning activity and a subject icon.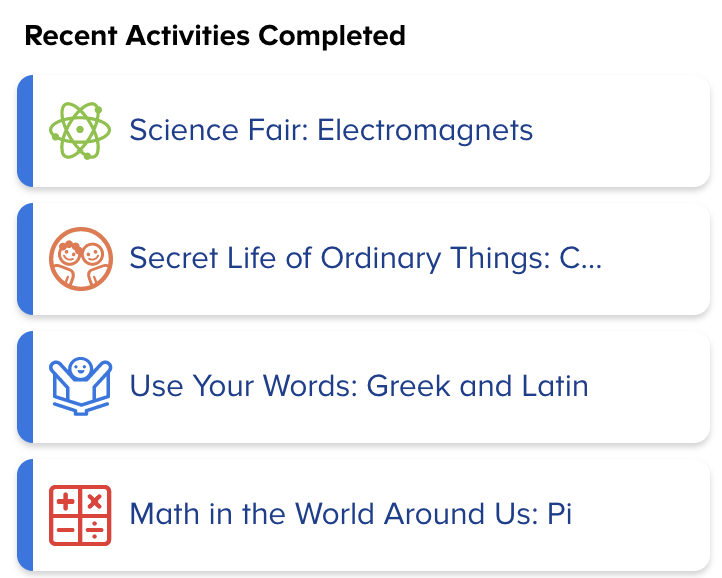 Can the Progress Tracker go into further details?
At this time, the Progress Tracker displays the information noted above. However, we understand that parents and caregivers would appreciate a more detailed Progress Tracker. The Adventure Academy developers are diligently proposing ideas on how to improve this feature.