We're pleased to hear that you're interested in Word Trace! Here are the answers to some commonly asked questions, please take a look!
Q: What is Word Trace?
A: Word Trace is the exciting new minigame in Adventure Academy! Avatars face off against one another, spelling out words from a grid of randomly selected letter tiles for points! Whoever has the most points when the timer runs down wins!
Q: How do I access Word Trace?
A: Once the tutorial has been completed, your avatar will have access to the Word Trace button, located above the Quest Log.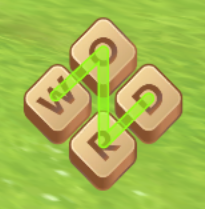 Q: Who do I play Word Trace with?
A: When you open Word Trace, the app will set up a match with another avatar that wants to play automatically!
Q: Are there rewards for Word Trace?
A: Everyone who plays Word Trace will receive coins as a prize! Winning the match will increase the amount of coins that you win.