The Adventure Academy curriculum emphasizes key topics such as reading comprehension, vocabulary development, mathematical operations, fractions, world geography, American history, physical science, life science, earth science, and scientific inquiry.
With thousands of learning activities in Adventure Academy, there are many different ways to engage in learning. Players can learn via the following:
Kiosks
The Adventure Academy World
Adventure Maps
Quests
Kiosks
Kiosks are a centralized hub where players can access our many learning activities. The learning activities presented will correlate to the Academic Difficulty Level that was selected for the player.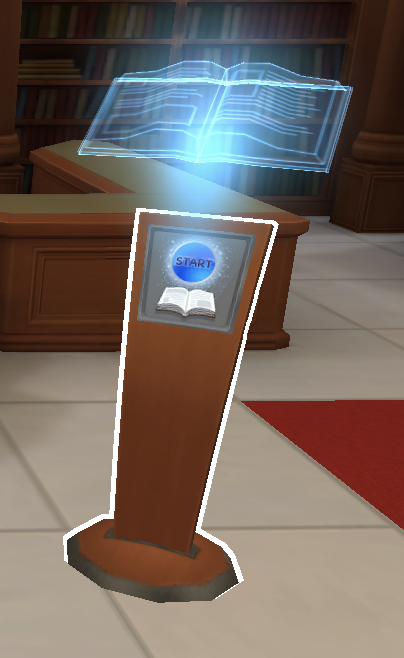 There are various options of learning available to players within the Kiosk. They can elect to do single activities, or they can complete entire Lessons on topics of their choice.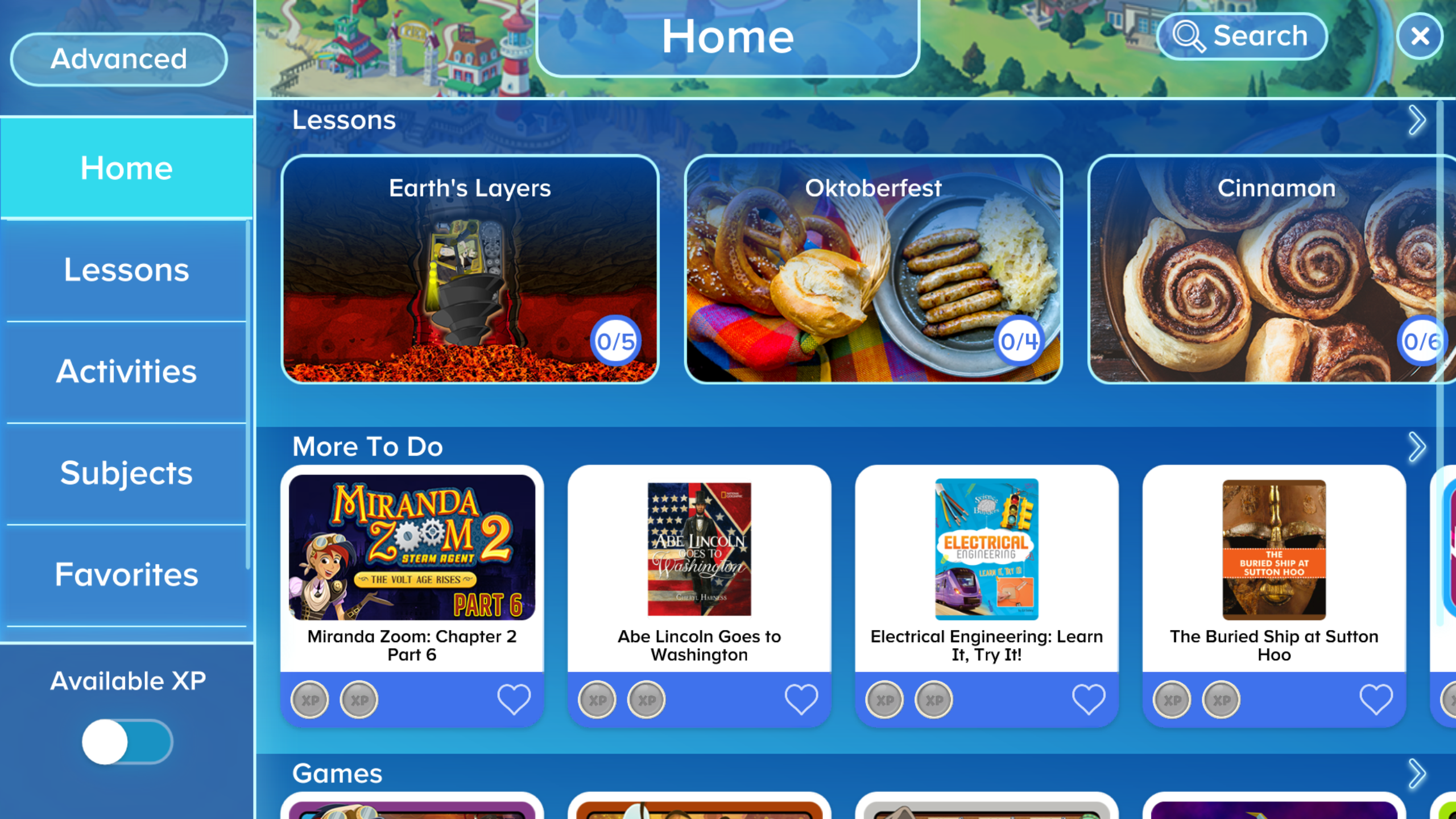 For example, a player who is interested in science can select Lessons, then select Science as the subject area. The Kiosk will then show them various Lessons on science topics such as volcanoes, hurricanes, or animal adaptations. From there, they can choose a Lesson to complete, which is filled with a sequence of learning activities (videos, games, books, etc.) that relate to the respective topic. These learning sequences are designed to both introduce and deepen a player's understanding of specific concepts in a subject area. Most Lessons end with a quiz-like activity that allows the player to show what they've learned from it.
The Adventure Academy World
There are even more ways players can learn as they interact and explore the virtual world of Adventure Academy. Some objects will have learning activities linked to them, and certain areas have exhibits available for players to visit and learn from.
For example, in the Academy, players can explore the Science and Math Wings, Library, and Observatory to learn more about specific topics (e.g. Newton's Cradle/Physics, the number Pi, the Declaration of Independence, or lunar eclipses). At the Aquarium, players can learn all about various types of marine life.
Adventure Maps
Also located throughout the Adventure Academy world are Adventure Maps. Adventure Maps are collections of various types of activities centered around a specific topic or theme. Players can both broaden and deepen their learning through these, and are a way for them to access Lessons outside of the Kiosk.
For example, in the science Adventure Map related to mythical creatures (also known as "cryptids"), players explore the evidence for and against creatures like the Loch Ness Monster and Big Foot. As they look at the evidence, they'll be asked to think critically about the ways in which the evidence may or may not support the existence of such creatures.
Adventure Maps can be linked to objects players can interact with, or at Adventure Stops.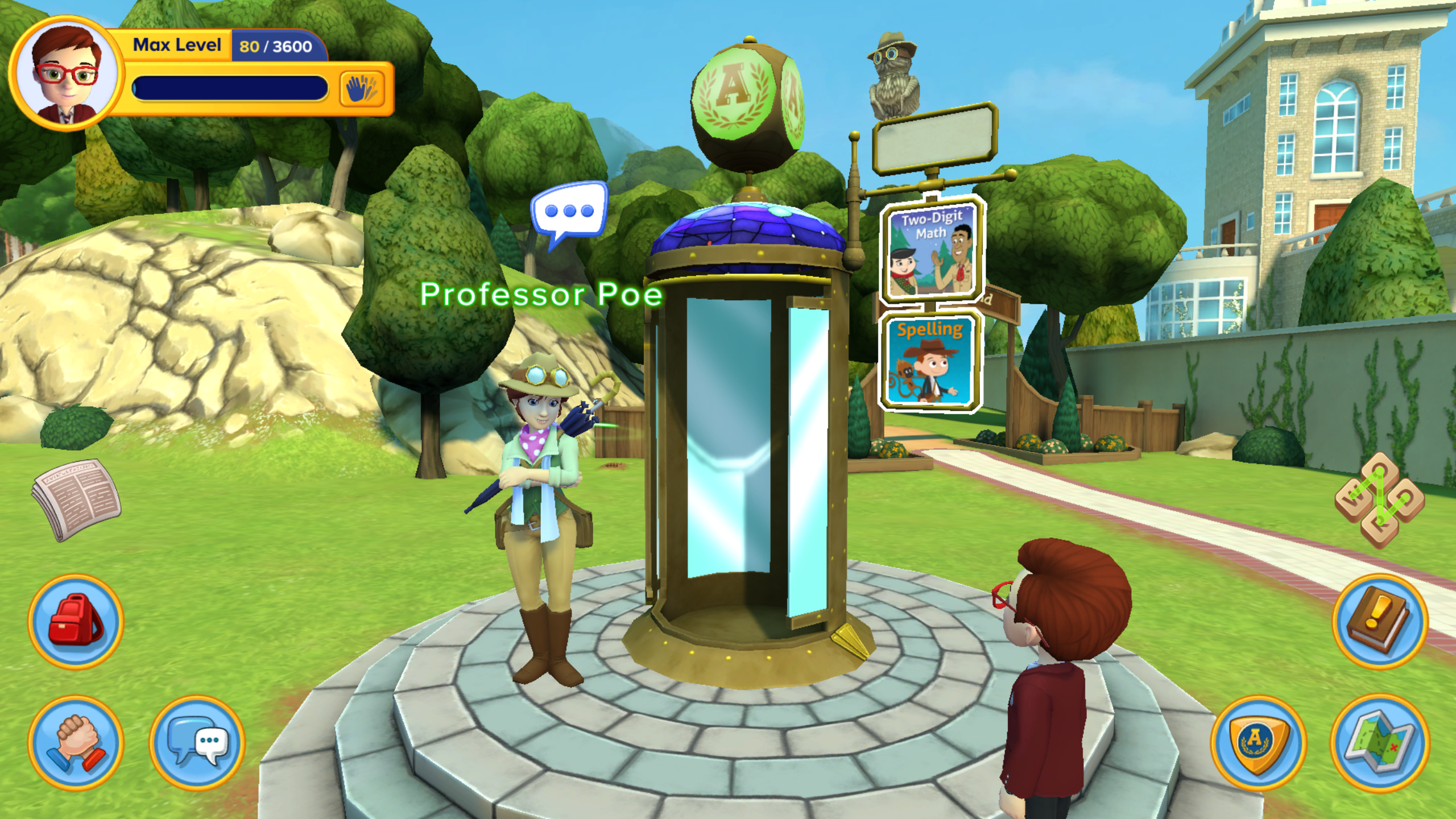 Quests
As part of the gameplay out in the virtual world of Adventure Academy, players can accept Quests from non-player characters (or NPCs). These Quests are very much rooted in problem-based learning, in that the character has a problem where they need the player's help to solve it.
To help solve the problem, a player must complete a number of tasks. Many of these tasks can include completing learning activities in order to find out a key piece of information.
Players can find Quests by looking for characters that have an exclamation mark icon above their head. This icon means that a character has a Quest for the player. More Quests can be unlocked as players level up their Avatar by completing learning activities.