Rapid Race is a Multiplayer Game in Adventure Academy.
Up to four players can play this game. Players will race against others and try to avoid obstacles in order to reach the finish line first.
How do I play a game of Rapid Race?
There are two ways a player can play Rapid Race:
By going to the Rapid Race entrance in the Commons
Through the Games Menu
To play a game of Rapid Race through the entrance in the Commons, players will need to first be in the Commons area if they aren't already located there. The Rapid Race entrance is located near the maze and the Academy.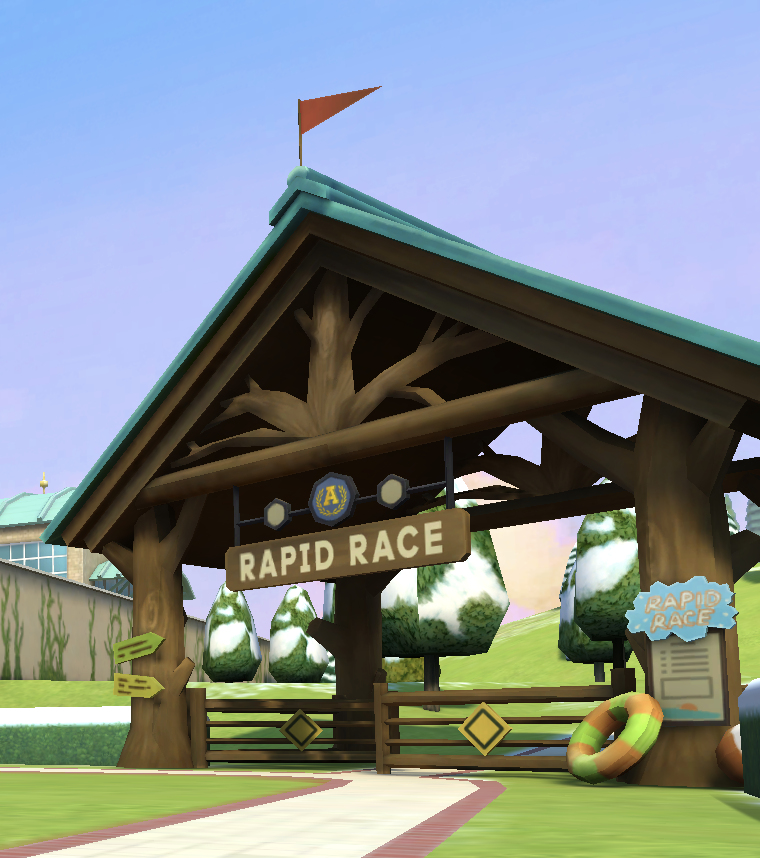 To play Rapid Race through the Games Menu, please see the steps below:
Select the Games icon.

The Games Menu will appear.
Select Quick Game in the Rapid Race section of the menu.

Are there any tips on playing Rapid Race?
The goal is to try and reach the finish line first! With that in mind, here's some tips to remember:
Go over the green arrows for a speed boost.
While you're jumping, you can still change lanes in the air.
Click/tap left or right each time you want to change lanes. Holding down on a direction will not allow you to change multiple lanes.
Collecting coins will give you extra rewards at the end.
Your inner tube float will automatically go left or right when you approach an island.
Does playing Rapid Race give players a reward?
All players who participate in a game of Rapid Race will earn Coins once the game has ended.